Long Time, No Blog?
Tagged: About / Beauty / CatBlogging / CorporateLifeAndItsDiscontents / COVID / NotableAndQuotable / PharmaAndBiotech / Politics / Sadness
So… long time, no blog, eh?
Multissimae Apologiae
Yes, I pretty much went dark from mid-August through the end of September. (And yes, this post is back-dated by a few days to appear on Sept 30. I just couldn't bear the idea that I blogged nothing in the month of September.)
Lots of things going on:
persistent mild cognitive impairment (though sloooowly healing?) as one of the sequelae of COVID-19 a year ago,
the return of depression that's been a lifelong companion, though this time at some scarier levels necessitating in anti-depressants,
some kind of non-COVID-19 virus that hung on for weeks, and
a couple urgent issues that required full-time attention (with my phase now finished, apparently successfully).
So while I've collected lots of articles thinking "I should blog that", no blogging resulted. Apologies to all 6 of my readers globally, in case you were worried. Also apologies to all 8 billion - 6 of the rest of humanity, for not putting up articles for you to ignore. :-)
I have to do a lot of work to get back into blogging shape, though:
Comments haven't worked for most of a year, ever since Heroku sank their free accounts. So I have to figure out the details of how to host Staticman on something like Render's free accounts, or find a replacement.
Page view counts haven't worked since April, since countapi went dark. It appears the developer sold it to a commercial interest (good for them!), and had to shut down the free service (bad for me). So we gotta find a replacement service, basically a key-to-integer database service. I'd really rather not write my own!
Of Note in the Meantime
During my sluggardly absence, many events of note occurred. Only the most deeply disturbed of persons would agree with me that these are the high points: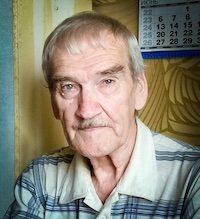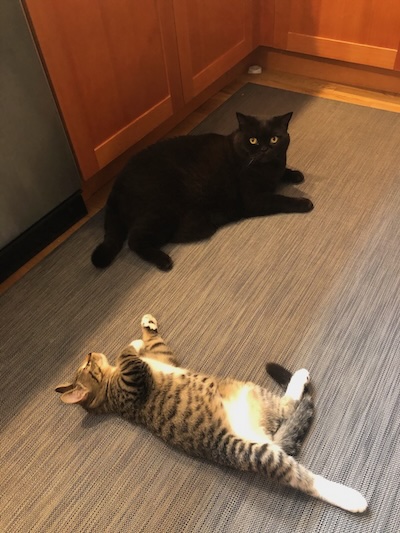 New Weekend Staff Member: Here at Château Weekend, we have a new staff member.

The Weekend Publisher (a.k.a. "my cat") has long been complaining of the workload cutting into his nap schedule. So he hired the Weekend Assistant Publisher (a.k.a. "my other cat") to lighten the load.

As with many new hires, the on-boarding process has not been without its bumps. For the first 2 days, the little guy was kept in a separate room with the door closed, so they could smell & hear each other, but no more. Then the door was opened, with a screen in place, so they could see but not murder each other. Then finally they were both allowed into the same space.

It's been 2 weeks of cat diplomacy now. The little guy, still just a kitten, is happy to try to "play" with the big guy. The big guy is most definitely not pleased with this development and wishes to fire the new hire. Our Cat HR Department will not permit this. So now we're at the stage where they somewhat tolerate each other's presence, but the Weekend Publisher hisses and growls when approached by the New Idiot. I'm pretty sure he's cursing, but he won't translate for me.

And it's understandable: the new guy has no manners at all, e.g., he'll try to eat his boss's food when the boss is sitting right there. It's enough to make me grab him and ask, "What did you think would happen when you steal food from a cat 8 times your weight, right in front of him?!"

Cat Diplomacy Report: As HG Wells, said, "Civilization is in a race between education and CATastrophe." Let's hope the little guy learns some cat manners fast enough to avoid being murdered. The Cat HR Department is firmly against firing, but wishy-washy on the subject of murder. Because… cats.
Dishonorable Mention
And last of all, in the position of (dis-)honor: Senator Tommy Tuberville (R-AL). His main qualification for the Senate appears to be that he was a college football coach, and the voters of Alabama love football and fascist/racist right-wing politics.
So it's not terribly surprising that he's pulled a number of bonehead maneuvers. The latest is to hold up all senior military promotions (usually a pro forma confirmation in the Senate) because sometimes the military will help pregnant members travel to a state where they can get the care they want, i.e., abortion. He's so against abortion, or at least the performative signaling of that, that he'll attempt to cripple the entire US military. Genius.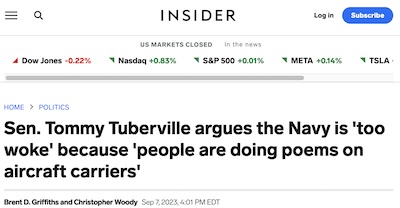 Lately, he's been criticizing the military for being too "woke". He says the military is "not an equal opportunity employer", even though it is. He apparently just doesn't like the idea of Black senior officers. He also recently slammed a poetry reading by sailors on an aircraft carrier [4]:
"Secretary [Carlos] Del Toro of Navy, he needs to get to building ships, get to recruiting, and he needs to get wokeness out of our Navy," Tuberville said Wednesday evening on Fox News. "We've got people doing poems on aircraft carriers over the loudspeaker. It is absolutely insane the direction we're headed in our military."
Sigh. If the sailors of the USS Abraham Lincoln or the USS Gerald Ford want to throw a poetry slam in their off-duty hours, that's great. Tuberville's apparent idea that poetry makes for bad soldiers, on the other hand… perhaps he should read Homer's Odyssey?
Or better yet, consider the Greek poet Sappho. In Sappho #65, "To One Who Loved Not Poetry," she wrote ca mid-600BCE of the barbaric nature of those who did not appreciate poetry:
κατθάνοισα δὲ κείσῃ οὐδέ ποτα
μναμοσύνα σέθεν
ἔσσετ' οὐδὲ †ποκ'†ὔστερον· οὐ
γὰρ πεδέχῃς βρόδων
τῶν ἐκ Πιερίας· ἀλλ' ἀφάνης
κἠν Ἀίδα δόμῳ
φοιτάσεις πεδ' ἀμαύρων νεκύων
ἐκπεποταμένα[8]

But thou shalt ever lie dead,
nor shall there be any remembrance of thee then or thereafter,
for thou hast not of the roses of Pieria;
but thou shalt wander obscure even in the house of Hades,
flitting among the shadowy dead.
Quoting Sappho, the famous poetess of Lesbos, contra the right-wing misogynist from Alabama seems almost too fitting for words.
(And no, it's not the first time I've invoked Sappho against pomposity. Not my first rodeo.)
The Weekend Conclusion
Ok, enough for one post, anyway.
Back to gobbling anti-depressants and hoping to heal the post-COVID-19 sequelae of mild cognitive impairment. I particularly hope to get some math ability back: that's been the one thing that I can contribute to society to justify my taking up space. Having that not eliminated, but certainly blunted, is like a visual artist going partially blind.
I hate it.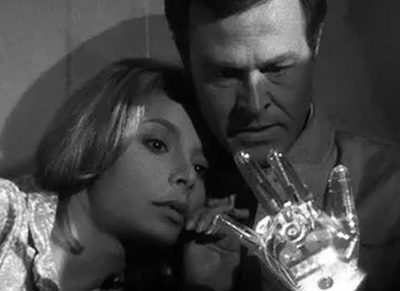 Ever seen the Outer Limits episode by Harlan Ellison called "Demon with a Glass Hand"? True, it aired a long time ago (1964-Oct-17), but I still remember it vividly. And I'm sure it's on streaming video somewhere.
Most of the plot, while excellent, is irrelevant here. The relevant bit: a man wakes up with no memory. He has a glass hand with no fingers, which is also a computer. The hand tells him he has to find the remaining fingers to restore its memory, and thus learn what's going on. Indeed, there are all sorts of incomprehensibly creepy things happening around him, some dangerous. (Murderous time-traveling aliens, you know.) So finding those fingers is a high priority.
That's what it's like. Only creepier. (And I'm not as handsome as Robert Culp, needless to say.)
---
Notes & References
1: G Albrecht, et al., "Solastalgia: the distress caused by environmental change", Australasian Psychiatry, 15 Suppl 1:S95-8, 2007. DOI: 10.1080/10398560701701288. ↩
2: D Rector, "An unstable Adams spectral sequence", MIT Math PhD thesis, 1966. ↩
3: J O'Mahony, "When less means more", The Guardian, 2001-Nov-23. ↩
4: BD Griffiths & C Woody, "Sen. Tommy Tuberville argues the Navy is 'too woke' because 'people are doing poems on aircraft carriers'", Business Insider, 2023-Sep-07. ↩
Published
Sat 2023-Sep-30
---