FDA Authorizes Paxlovid
Tagged: COVID / PharmaAndBiotech
… aaaaand, today the suspense is over: the FDA has authorized paxlovid.
Paxlovid is legal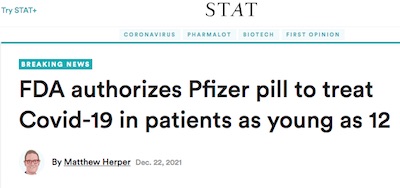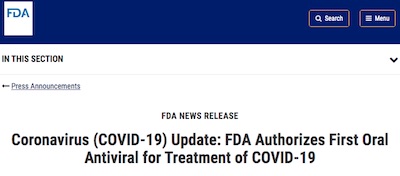 Matthew Herper at STAT News is, as usual, on the case. [1] There was the official FDA news relase this morning. [2]
This is not full approval, but an Emergency Use Authorization. Because… emergency. Another sign of their efforts at speed is that they didn't convene the AMDAC committee of external advisors to pass judgement, like they did with molnupiravir. This indicates (a) they're in a hurry to get this out, and (b) the data are really, very, very, good.
The authorization is for age 12 and up.
Mysteriously, it is not authorized for prevention in case of exposure. Maybe the drug interactions of the ritonavir component have people feeling a bit cautious. They did explicitly mention this.
The FDA accepted that the efficacy vs hospitalization was 88%.
The Weekend Conclusion
Here at Chez Weekend, we also approve fully. (Not that anyone should care about that. Instead, care about people getting effective treatment: A Good Thing.)
Addendum 2021-Dec-23: A trawl through the data
One of the drawbacks to sidestepping the advisory committes (AMDAC or VRBPAC) is that we don't get public availability of the filing documents, the slide decks, and so on. Those are really informative.
But here, as with evusheld, we have to rely on skimpier sources, starting with the FDA press release. So here's what we've got, working forward from the press release and following links:
So, no big surprises. Other than that it got done so suddenly, without an advisory committee meeting.
Addendum 2021-Dec-23: And in related news… molnupiravir is also legal
Honestly, I though Merck's molnupiravir was dead in the water: equivocal recommendation from the AMDAC, worries about mutagenicity particlarly in pregnancy, worries about breeding new variants, weeks of inaction by FDA administrators after the AMDAC meeting, hints that an EUA could be withdrawn if "something better" showed up (like paxlovid)… the list goes on.
But I'm happy to report being wrong: today the FDA gave an EUA for molnupiravir, too. [8] Now, true, they loaded it up with a bunch of restrictions, but those seem appropriate. Such as, "only when other authorized therapies are not accessible or not clinically appropriate", i.e., last-resort situations.
The pregnancy issue is an interesting one. Women are recommended to get a negative pregnancy test before treatment, then to use contraception during treatment and for 4 days after. Men, on the other hand, are urged to use contraception during treatement and for the following 3 months!
Availability: Merck has hundreds of thousands of courses available now, with 1 million courses over the next few weeks in the US and 10 million to be shipped worldwide. It will be in greater supply than paxlovid for the first few months of 2022.
Now if only somebody would do a combination trial involving paxlovid, molnupiravir, and fluvoxamine. Heck, maybe even monoclonal abs, too. Gotta be a good Loewe synergy score in there somewhere, with all those different mechanisms of action.
Of course you should still get vaccinated.
---
Notes & References
1: M Herper, "FDA authorizes Pfizer pill to treat Covid-19 in patients as young as 12", STAT News, 2021-Dec-22. ↩
2: C Tantibanchachai, "Coronavirus (COVID-19) Update: FDA Authorizes First Oral Antiviral for Treatment of COVID-19", FDA News Releases, 2021-Dec-22. ↩
3: Pfizer Staff, "EPIC-HR: Study of Oral PF-07321332/Ritonavir Compared With Placebo in Nonhospitalized High Risk Adults With COVID-19", ClinicalTrials.gov, downloaded 2021-Dec-23. ↩
4: Pfizer Staff, "FACT SHEET FOR PATIENTS, PARENTS, AND CAREGIVERS: EMERGENCY USE AUTHORIZATION (EUA) OF PAXLOVID FOR CORONAVIRUS DISEASE 19 (COVID-19)", FDA.gov, downloaded 2021-Dec-23. ↩
5: Pfizer Staff, "FACT SHEET FOR HEALTHCARE PROVIDERS: EMERGENCY USE AUTHORIZATION FOR PAXLOVID(TM)", FDA.gov, downloaded 2021-Dec-23. ↩
6: FDA Staff, "Frequently Asked Questions on the Emergency Use Authorization for Paxlovid for Treatment of COVID-19", FDA.gov, downloaded 2021-Dec-23. ↩
7: JA O'Shaughnessy (Acting Chief Scientist, FDA), "Official Letter of Emergency Use Authorization", FDA.gov, downloaded 2021-Dec-23. ↩
8: M Herper, "FDA authorizes Merck's Covid-19 pill, but stresses its use should be limited", STAT News, 2021-Dec-23. ↩
Published
Wed 2021-Dec-22
---