Natural vs Vaccine Immunity, Redux
Tagged: COVID / PharmaAndBiotech / Statistics
Last summer, we saw some evidence that COVID-19 vaccination conferred better immunity than 'natural' immunity from recovering from the disease. How has that held up in the face of new evidence?
Comparing 'natural' and vaccinated immuities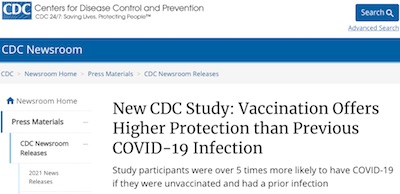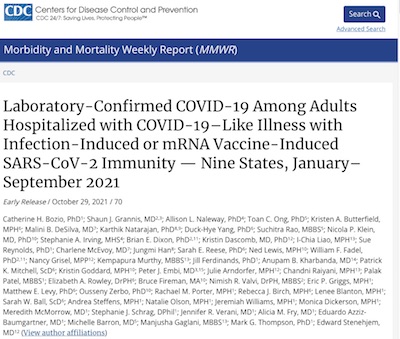 A few days ago came a study from the CDC [1] [2] which compared COVID-19 infection rates in people who were vaccinated vs people who had recovered from a previous COVID-19 infection. Any material value of the risk ratio different from 1 would be evidence that one or the other was superior.
NB: This is not just a measurement of antibody levels, as was the previous study we examined. That's convenient to do, and fast, but is only a narrow slice through the complexity of immunity. What we have here is a full-up empirical study of humans in the wild, going about their lives — and that's the most useful data to have so you can figure out what will happen to you, going about your life.
The view from 10,000 feet
The study examined persons older than 18 who were hospitalized for COVID-19 symptoms. They were either fully vaccinated with an mRNA vaccine in the last 3-6 months, or had already had documented COVID-19 within the last 3-6 months. About 9,000 people were evaluated – this is not a tiny study, but almost the size of the original COVID-19 vaccine clinical trials!
Result: Unvaccinated people had a risk of reinfection that was higher by 5.49 fold (95% confidence limit: 2.75 – 10.99).
Note that the risk ratio there is bounded away from 1 by the 95% confidence limit, i.e., we're pretty sure this is a real thing and not just by chance.
So we previously thought vaccine-induced immunity was probably better. Now we have to revise our opinion: vaccine-induced immunity is more than 5 times better!
So what?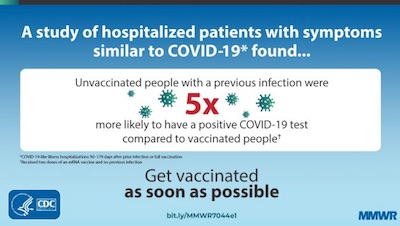 Predictably, though also responsibly, CDC administration used this as yet another reason to encourage vaccination:
"We now have additional evidence that reaffirms the importance of COVID-19 vaccines, even if you have had prior infection. This study adds more to the body of knowledge demonstrating the protection of vaccines against severe disease from COVID-19. The best way to stop COVID-19, including the emergence of variants, is with widespread COVID-19 vaccination and with disease prevention actions such as mask wearing, washing hands often, physical distancing, and staying home when sick," said CDC Director Dr. Rochelle P. Walensky.
Isn't it about time we start listening to this excellent advice?
---
Notes & References
1: CDC Media Relations, "New CDC Study: Vaccination Offers Higher Protection than Previous COVID-19 Infection", CDC Media Releases, 2021-Oct-29. ↩
2: CH Bozio, et al., "Laboratory-Confirmed COVID-19 Among Adults Hospitalized with COVID-19–Like Illness with Infection-Induced or mRNA Vaccine-Induced SARS-CoV-2 Immunity — Nine States, January–September 2021", CDC Morbidity and Mortality Weekly Report (MMWR), ePub 2021-Oct-29. DOI: 10.15585/mmwr.mm7044e1↩
Published
Thu 2021-Nov-04
---