On 'Natural' Immunity Persistence vs COVID-19
Tagged: COVID / Politics / Statistics
What are the consequences of relying on 'natural' immunity after recovery from COVID-19? Pretty grim, as it turns out.
What happens if you perpetually refuse vaccination?
First of all, if you are unvaccinated, you will get COVID-19, most likely the Delta variant. This is unavoidable, and sometimes unsurvivable or only survivable with long-term debilitating consequences.
But then what would happen after that? Would you then be immune?
We'd love to believe that immunity is more or less life-long, as with measles. But coronaviruses are unrelated to measles viruses, so there's really no reason to expect that.
Immunity may fade with time, which means either: (a) we need periodic boosters, probably annually, or (b) we have to be really aggressive about vaccinating every single human being until we eradicate COVID-19 like we've eradicated smallpox. Unfortunately, unlike smallpox which is human-specific, SARS-CoV2 is present in many animal reservoirs now. [1] Unless we're going to vaccinate all the wild, farmed, and domestic animals in the world, that reservoir is going to keep on causing zoonotic re-infections in humanity more or less forever.
So… alternative (a), periodic boosters, is the likely future.
That's why I was struck by this (NB: "MI" = myocardial infarction, basically a heart attack; "PE" = pulmonary embolism, clotting in the lung that's often instantly fatal):
The disturbing thing, of course, is in the delusional replies that crawled out of the woodwork:
vaccinees have taken the Mark of the Beast, which ends in the lake of fire, or
vaccinees should shut up and leave the unvaccinated alone, or
vaccinees are simply too afraid of COVID, and should instead "build up" their immunity (except that's what vaccination does), or
… I just can't bear to read any more replies.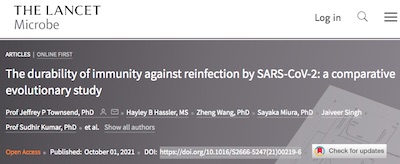 The Tweet's author is referring to this article by Kinsella in the Yale Daily News. [2] Townsend, et al. at the Yale School of Public Health [3] used actual close relatvies of SARS-CoV-2 (classic SARS, MERS, and a couple other human coronaviruses for a total of around 6 viruses) to estimate the duration of 'natural' immunity for unvaccinated people:
At 3 months, there's about 5% chance of reinfection.
At 17 months, there's a 50% chance of reinfection, i.e., you should, on average, to be reinfected by this point about 1.5 years after your first infection.
Conclusion: If you refuse vaccination, you should expect on average to get COVID-19 again, about every 1.5 years or a bit less, for the rest of your life.
Hmm… let's suppose that you do this dumb thing, avoiding vaccination. Let us further suppose that as you keep getting COVID-19 over and over, the mortality rate creeps up a bit because it's wearing you down. It's varying over time and in different places [4], ranging from a few tenths of a percent to double digit percents. So let's guess 3% mortality for you, averaged over many cycles of re-infection.
How bad can it get? Pretty bad:
That means: after 9 cycles of infection – just 13.5 years – 25% of you are dead!
Is that a lot?
Why, yes. Yes, it is:
About 1/4 of the US population seem to be vaccine refuseniks for now, although as mandates take hold that will go down to the really hard core. Let's say 15% – 16% of US residents are hardcore vaccine refusers.
If one quarter of those vaccine refusers die within 13.5 years from repeated COVID-19 infection, that's about 16% / 4 = about 4% of the entire US dead.
There are 330 million people in the US, so 4% of that is 13.2 million dead in 13.5 years!
That is a… poor survival strategy.
The Weekend Conclusion
Now, you can fiddle with the numbers in that simple model if you like. Maybe the mortality rate from repeated COVID-19 reinfection is lower than 3%, or higher. Maybe the hardcore vaccine defiant fraction of the population will be less than 16%, or maybe higher. The final numbers will of course vary.
But the point is not to fixate on the number of needless deaths. The point is, however: the number is large, and it is needless. We don't need to die like that.
We already know that although 'natural' immunity conveys some protection, vaccination induces stronger antibody levels. Now we see the consequences: 25% of vaccine refusers dead within 13.5 years, based on comparison with the most closely related human-infecting coronaviruses. 13.2 million dead in the US in the next 13.5 years.
Please don't do that. Get vaccinated. You should live, and not die.
---
Notes & References
1: T Prince, et al., "SARS-CoV-2 Infections in Animals: Reservoirs for Reverse Zoonosis and Models for Study", Viruses 13:3, p 494, 2021-Mar-07. PMID: 33802857, DOI: 10.3390/v13030494 ↩
2: A Kinsella, "COVID-19 reinfection is likely among unvaccinated individuals, Yale study finds", Yale Daily News, 2021-Oct-07. ↩
3: JP Townsend et al., "The durability of immunity against reinfection by SARS-CoV-2: a comparative evolutionary study", The Lancet Microbe, 2021-Oct-01. DOI: 10.1016/S2666-5247(21)00219-6. ↩
4: MN Hasan, et al., "The Global Case-Fatality Rate of COVID-19 Has Been Declining Since May 2020", Am J Tropical Med & Hygiene 104:6, pp 2176-2184, 2021. PMID: 33882025, DOI: 10.4269/ajtmh.20-1496 ↩
Published
Sun 2021-Oct-24
---