Boston First Night: Best Ice Sculpture
Tagged: Beauty / ϜΤΦ
Against best pandemic advice, First Night happened again in Boston. Wanna see a highlight?
First Night
Yes, they moved most things outdoors. Still a bit dangerous though, so we hunkered down here at Chez Weekend.
But the next-day reports were… interesting.
There are usually a lot of very beautiful ice sculptures. A prominent theme seemed to be: don't mess with librarians. In front of the main entrance to the Boston Public Library was an ice sculpture of a spider crab reading a book:
While I'm immensely proud the hottest spot was a vaccination van, I did particularly like the librarians' response to the question of how we know this is not a deer tick: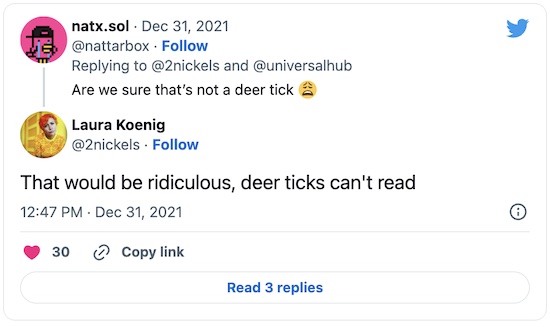 Like I told you: don't mess with librarians!
---
Notes & References
Published
Sun 2022-Jan-02
---