Santa and the cops
Tagged: CatBlogging / TheDivineMadness / ϜΤΦ
Here at Chez Weekend, there's a rumor circulating that on Christmas Eve, Santa got pulled over by the cops?!
But it was ok, because the cops had Probable Claus.
---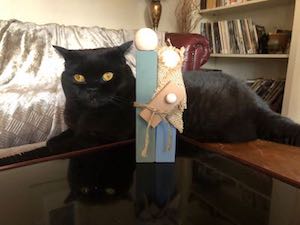 What are you looking down here for? That was it. That was the whole post. All of it. We're done here.
Ok, fine: have a cat picture. The Weekend Publisher didn't think the joke was that funny either, when I told him. As you can plainly see.
He is a Good Cat, but not an especially Good Critic in these matters. You should see his cat food reviews. Tough audience, he is.
---
Notes & References
0: Nope. Not today, Bunky. You didn't laugh at the joke, so no footnotes for you! [↩]
Published
Tue 2020-Dec-29
---